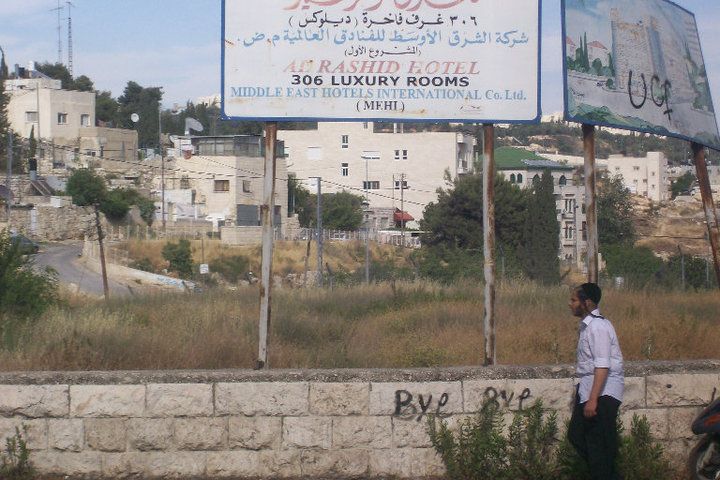 A Walk Along the Green Line
An Introduction to Sheikh Jarrah, East Jerusalem
Sheikh Jarrah is a neighborhood in East Jerusalem, illegally occupied since 1967 by Israel in contravention of international law and United Nations Security Council Resolution 242, which in recent weeks has played host to an explosion of extremist violence against Palestinian residents. Though attention has been shifted by Israeli Prime Minister Benjamin Netanyahu toward more familiar terrain upon which to shore up his right flank, the crisis of apartheid, as practiced upon Palestinians within Israel, East Jerusalem, the West Bank, and the Gaza Strip, is not going away.
To supplement my larger article about Sheikh Jarrah, drawn from field work conducted there in 2009 and 2010, here are some fast facts about Sheikh Jarrah for those seeking to learn more about the neighborhood and why it is so important.
Why is Sheikh Jarrah important?
Located between Jerusalem's Old City and Mount Scopus, Sheikh Jarrah has received international attention in recent decades because of evictions and home demolitions conducted against Palestinian families by Jewish Israeli settler organizations:
Four Palestinian families have already been evicted from homes where they have lived for more than 50 years, and another 37 are awaiting court dates and decisions that will determine whether they can remain in their homes
Since the 1970s, settler groups including the Sephardic Community Committee and the Knesset Israel Committee have sought to claim ownership of Palestinian Arab houses in the area on the basis of claims made prior to the 1948 war which established Israel and left perhaps 800,000 Palestinians as refugees
Why do right-wing Jewish Israelis want to live in Sheikh Jarrah?
The area is important to some Jews because they believe that it is the location of the grave of Shimon haTzadik (Simeon the Just), a judge during the Second Temple Period. This is disputed.
Palestinians, however, claim the evictions in Sheikh Jarrah are part of a plan to "Judaize" East Jerusalem by kicking out Palestinians and replacing them with Jewish settlers.
The area also includes the site of Shepherd's Hotel, which was owned by late Palestinian leader Hajj Amin al-Husseini but was taken after 1967 by an Israeli government organization. The building was later sold to Irving Moskowitz, an American settler financier and casino operator who wanted to develop it as a site for illegal, Jewish-only settlement housing.
How did the Palestinian families in Sheikh Jarrah come to live there?
In 1956, 28 Palestinian refugees from the 1948 War were selected by the Jordanian government, then in control of East Jerusalem, and the United Nations Relief and Works Agency for Palestine Refugees in the Near East (UNRWA) to be placed in homes in Sheikh Jarrah.
They were promised by the Jordanian government that after a period of 3 years of paying a nominal rent, they would receive legal title to their properties; however, the Jordanians never fulfilled that promise.
Soon after 1967, when Israel conquered East Jerusalem, Jewish settler groups attempted to move into the neighborhood.  They occupied the home of one Palestinian family that was abroad and took control of the cave of Simeon the Just.
What has the settling attempt been like? How were these families evicted?
In 1972, settler organizations sought to claim ownership of several homes in the neighborhood on the basis of an Ottoman-era koshan document that they claim proved Jewish ownership of the lands prior to 1948. Palestinians contest the authenticity of the document, and there exists no evidence the homes existed there before their construction in the 1950s.
After a long series of court battles, in 1982 a lawyer for the Palestinian families reached an agreement with the settler groups in which the Palestinians agreed not to challenge the authenticity of the groups' ownership claims, and in return were accepted as "protected tenants," meaning that they could stay in their homes without the threat of eviction in return for making regular rental payments and agreeing not to renovate or change the property.
Palestinian families in Sheikh Jarrah claim that they would never have agreed to those terms and that the lawyer was acting independently, according to my interview with Maher Hannoun.
In April 2002, the Hanoun and al-Ghawi families were evicted for the first time, for refusing to pay rent to settlers.
In 2006, Israeli magistrate court decided that Sephardic Committee, a settler organization, has no valid ownership claim over the lands in Sheikh Jarrah and the families are allowed to come back to their houses.
In 2008, settler groups appeal to the magistrate court again, which this time issues eviction orders for the al-Kurd family for adding a modest extension on to their houses, violating the rules of the "protected tenant" agreement.
The Al-Rawis and Hanouns are evicted in August 2, 2009 for tax delinquency. They were thrown out suddenly, and all their possessions were either destroyed or dumped in an alley not far from their homes.
Since then, they have been living intermittently in tents beside their homes while Jewish settlers live inside, and continuing the court battle to reclaim their houses.
What is the bigger picture in Sheikh Jarrah?
Israeli Tourism Minister Benny Alon said in 2002, "Our strategic plan for the city is one, a belt of Jewish continuity from east to west."
Since the evictions, the four families have received international attention as symbols of Palestinian resistance to Jewish settlement in East Jerusalem.
Now, violence has erupted on a larger scale, setting in motion the events which have culminated with the Israeli military attack on Gaza.